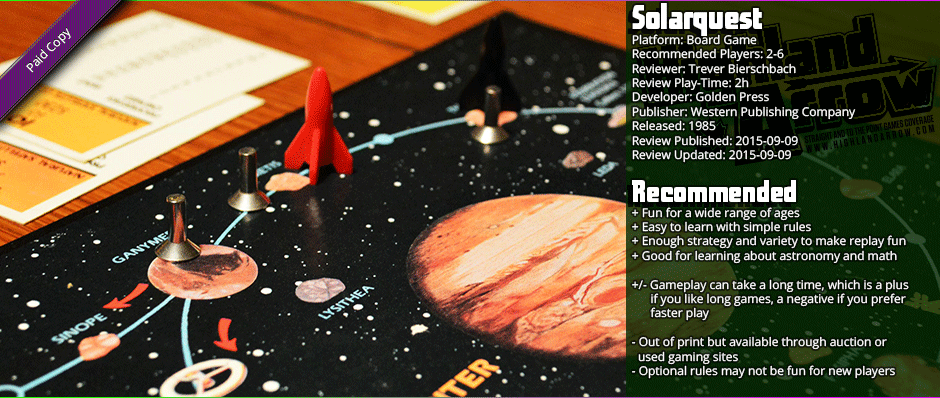 Solarquest is a real estate trading game set in Earth's solar system developed by Golden Press and published by Western Publishing Company. Players travel from Earth through the solar system, landing on moons, planets and space stations, purchase property, dodge lasers, and barter for fuel and rent. Like its terrestrial predecessor, Monopoly, Solarquest acts as a banking and trade simulator but the addition of fuel, lasers, gravity, and a non-linear movement path add levels of strategy that Monopoly can't match. As players move their tokens, small rockets, they expend fuel when leaving moons and planets. Use too much fuel and you can find yourself stranded, so thoughtful placement of fuel stations and purchases is important, as well as planning for other players in order to situate properties and acquire those that are strategically placed to produce the most income.
Solarquest was released in 1985 by Golden Press/Western Publishing Company and went out of print in the late 90s. There were two editions of the game, with minor rules variations in the 1988 version. An Apollo 13 edition was released in 95, with artwork themed after the movie of the same year, and some slight modifications to the game. A trimmed down spin-off was also released in 97, called Spaceopoly, not to be confused with Space-opoly which is more like Monopoly with a space them rather than a unique game on its own.
Who needs a straight line?
Unlike other real estate trading games, Solarquest has a unique pathing that was much more aesthetically pleasing than its contemporaries. Players fly their ships in a winding path through the solar system, around the larger planets, and often get stuck in orbit. Each planet has a gravity well, a number of black spaces that ships cannot land on. If your roll puts you in the gravity well of a planet you have to go around again, which puts the player at risk of landing on moons owned by other players, and the possibility of running out of fuel. This keeps the game interesting, while giving replays of the game a new feel each time. It also lends to more strategy when you play, knowing when to buy, or pass, place fuel stations, or rely on other players to purchase fuel from. The art on the board, even after so many years, is vibrant and colourful, which also sets it apart from other games of the era.
One of the coolest design aspects of the game, and something that will appeal to space nuts like me, are all the facts scattered around the board, box, and cards. The interior box contains facts about each planet and major celestial body in the solar system. The board has quite a few of the named asteroids and includes their size, and each property card for moons and planets include facts on those as well. This feature makes the game great for kids as well, teaching them about space as well as counting and dealing with the basics of money and making change.
The board and other parts of the game are well made and have held up well over the years. While a couple of ships have been misplaced, and the box is showing some wear, the board is still in one piece, the property cards are printed on durable card stock, and the metal fuel stations are still shiny. The quality of the game material itself is very good so used copies, that have all the pieces, should still be in relatively good shape if they weren't abused.
Game of moons!
Game-play in Solarquest can be as quick as 45 minutes, or as long as 4 or more hours depending on player count, luck, and strategy. Much like other real estate trading games, the purpose is to navigate the board through dice rolls, acquire property, charge rent, and bankrupt the other players. Solarquest has the added twist of using fuel, and optional rules like laser battles to mix things up. Players start with enough money to purchase just about anything they want in one rotation, and three fuel stations to place on a planet or moon they own. Each property charges opposing players rent or service fees, based on how many properties the player owns in that group, so the more moons of Jupiter one owns, the higher the rent is when another player lands on one of your moons. Players can purchase fuel from opponents if they land on a property with a fuel station, or a space dock, and like rent the price increases with the number of properties owned.
Generally the first pass for each player is just a race to get back to Earth to collect your 500 fedrons for passing (or 1000 for landing on Earth) and buying up as much property as you can afford along the way. Unless a player gets a streak of bad luck there usually isn't any payment of rent in the first pass. It's the second pass through the solar system when players begin to develop more strategy, fuel has become an issue, and landing on the wrong moon could determine whether a player has enough money to buy the next property. Red shift cards, a sort of random event card that players draw when rolling doubles, can also change the landscape of the game drastically. They send the players to all corners of the solar system, give them money, property, or take it away. Our play through recently saw a lot of red shift cards, some even saving players who were about to run out of fuel and couldn't roll low enough to move.
With our session, we had three players, and it went fairly well for about three passes around the board. Almost every property was purchased, and people had stacks of fedrons, the in-game currency. Getting caught around a planet, not being able to roll high enough to get out of the gravity well which means going around again, started to see players exchanging large amounts of money as we would repeatedly land on moons other players owned. That can be the most frustrating part of the game, but one of the biggest features that separates it from Monopoly. For example, Uranus has ten 'points' around it, made up of space stations, moons, and free space. It has three gravity spots, which cannot be landed on, so if you are on the 6th spot from leaving orbit, but roll an eight or less, you have to go around Uranus again. If you don't own the majority of the properties in orbit, you can see your cash dwindle quickly as you keep paying rent to the players that do. Four of the major planets, Jupiter, Uranus, Saturn, and Neptune have these orbital paths that can trap a payer for multiple rotations, making their properties prime real estate.
The optional laser battle rules can make the game faster, and increase the level of strategy. If used, it allows players who are close enough to fire shots at each other by rolling die. Rolling doubles does damage to the target, requiring the player to pay money to get repairs, while double 6's destroys a ship and sends the player out of the game. We did not use this for the review play through as in the past it tended to speed up the games more than I liked and isn't always fun for new players. I'd consider the option more of an advanced rule for players who want something a little different out of the game.
Players at the table commented that it is easy to play and learn, straight forward game play and just plain fun, and more fun than Monopoly.